InvestorFuse IF3 Release 3.38
Another week down, another awesome list of updates, enhancements, and fixes inside of IF3 Release 3.38 for you!
IF3 Enhancements
We've enhanced some existing IF3 Features to make them better.
Filtering IF3 Dead Opportunities from Active Pipeline – Filtering dead opportunities now made easier! Prior to this release, you were required to switch to the All Opportunities Pipeline to filter dead leads but now, you can filter them from the Active IF3 Opportunties Pipeline so it requires fewer clicks to get to your dead opportunities. Click here to get more info in the updated KB Article.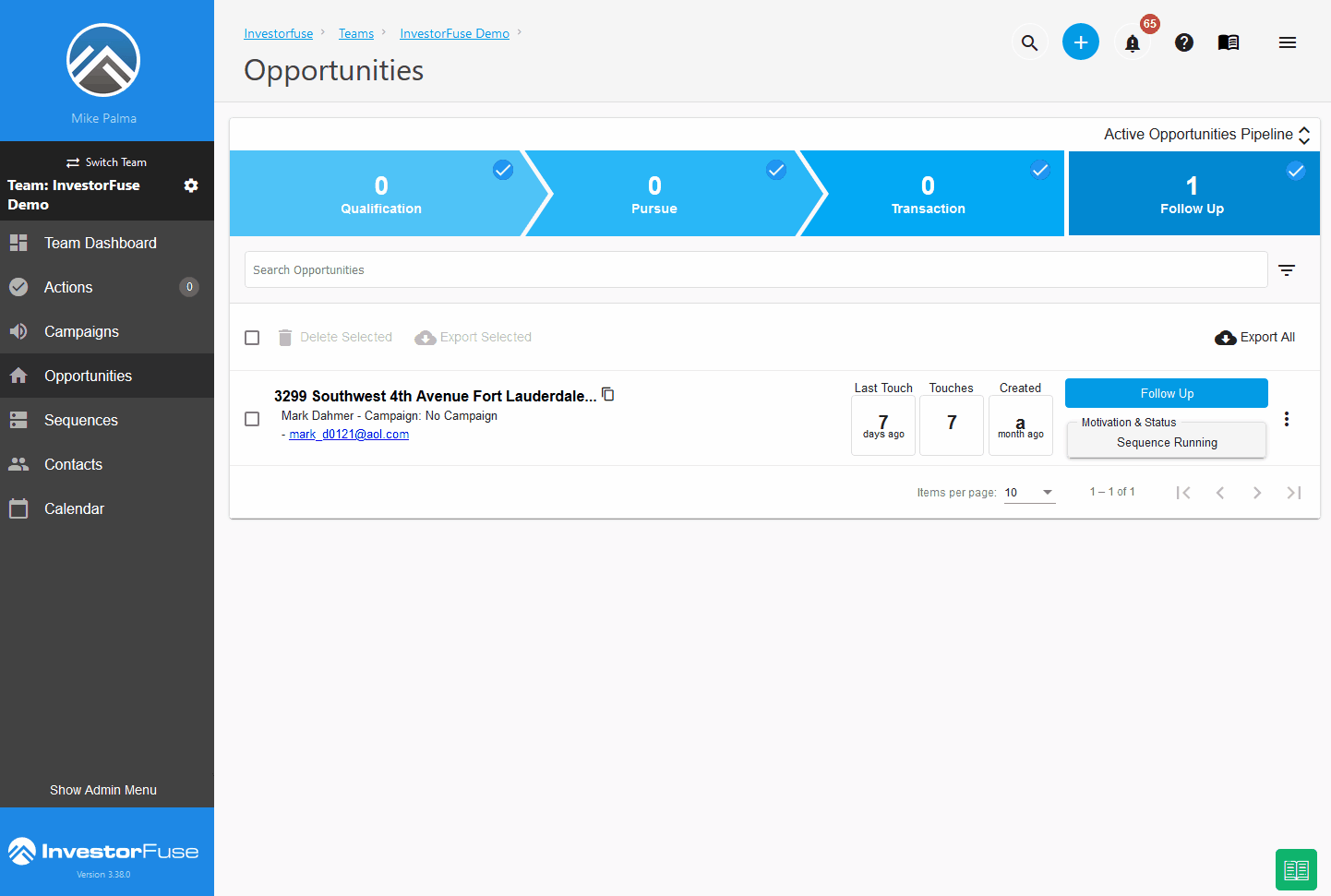 Name of Active Sequence – Since the dawn of time, it has been challenging to tell which Sequence is running in an opportunity. Now, the name of the Sequence can easily be seen in the Actions tab. Whew!
Team Dashboard Filter – The custom date filter in the dashboard has been greyed out for too long. This update brings that feature live allowing you to filter KPIs by custom date range!
Emails in Quick Add – The email UI in Quick Add has been updated to support rich text and HTML similar to the other areas where you can send an email.
Tracking Numbers in Campaign List – A tracking number column has been added in the campaign list view so you can easily see the tracking number of the campaign without having to open it.
Viewing Notes from Opportunities list view – View notes feature from the opportunities list view would have UI issues if the opportunity has a large quantity of notes. We added a scroll bar to make this less wonky.
HTML characters in the Activity Log – Some tweaks were made in the Activity log when it comes to displaying webform submissions with HTML characters to make them readable for us regular non-technical folk.
IF3 Bug Fixes
Sequence Steps not showing – We received another report of the Sequence steps not showing in the actions tab after last week's update….grrrr.  We found what went wrong in the back-end and fixed it! 🙂
Emails with no Subjects – Sending emails with no subjects from the system would cause the message to not be delivered. We changed the subject field to be required to ensure deliverability.  Also, you should consider adding a subject line in your emails as a good business practice.

Log in Issue

– We have received reports about the navigation menu not populating when logging in to IF3. This update should fix that issue and we are closely monitoring it for any signs of recurrence.

CallRail Tracking Numbers   – An issue came up where CallRail tracking can no longer be removed once entered in a campaign which has been changed so you can remove them as needed.
Transaction Checklist Duplicates – The transaction checklist would have duplicate entries when they populate and can be annoying!  That should no longer happen after this update.
Text Wrapping – Adding a long comment or sequence name would stretch the page to display all of the characters. We implemented text wrapping to prevent the UI from stretching out. 

Project Manager

– If you have used Project Manager in the past, you know that it is impossible to scroll down through the comments because it would auto scroll to the top. This update will permanently fix the issue and add minor improvements to the section.