InvestorFuse IF3 Release 3.41
We've been busy this past week with IF3 Release 3.41 and have made significant improvements to Sequences.
IF3 Roadmap
Did you know you can see what we are working on real-time? Check out our Roadmap anytime to see what we're up to and submit your ideas there for improvements, we really do listen to you! https://www.investorfuse.com/roadmap
IF3 Enhancements
Assignment Section Tweaks – Assignment section enhancements incoming! We removed a few options in the Assignment section that didn't really do anything. Another change is when creating a next Action, the system now suggests the default assignee based upon your Assignment settings. Convenient….right?!?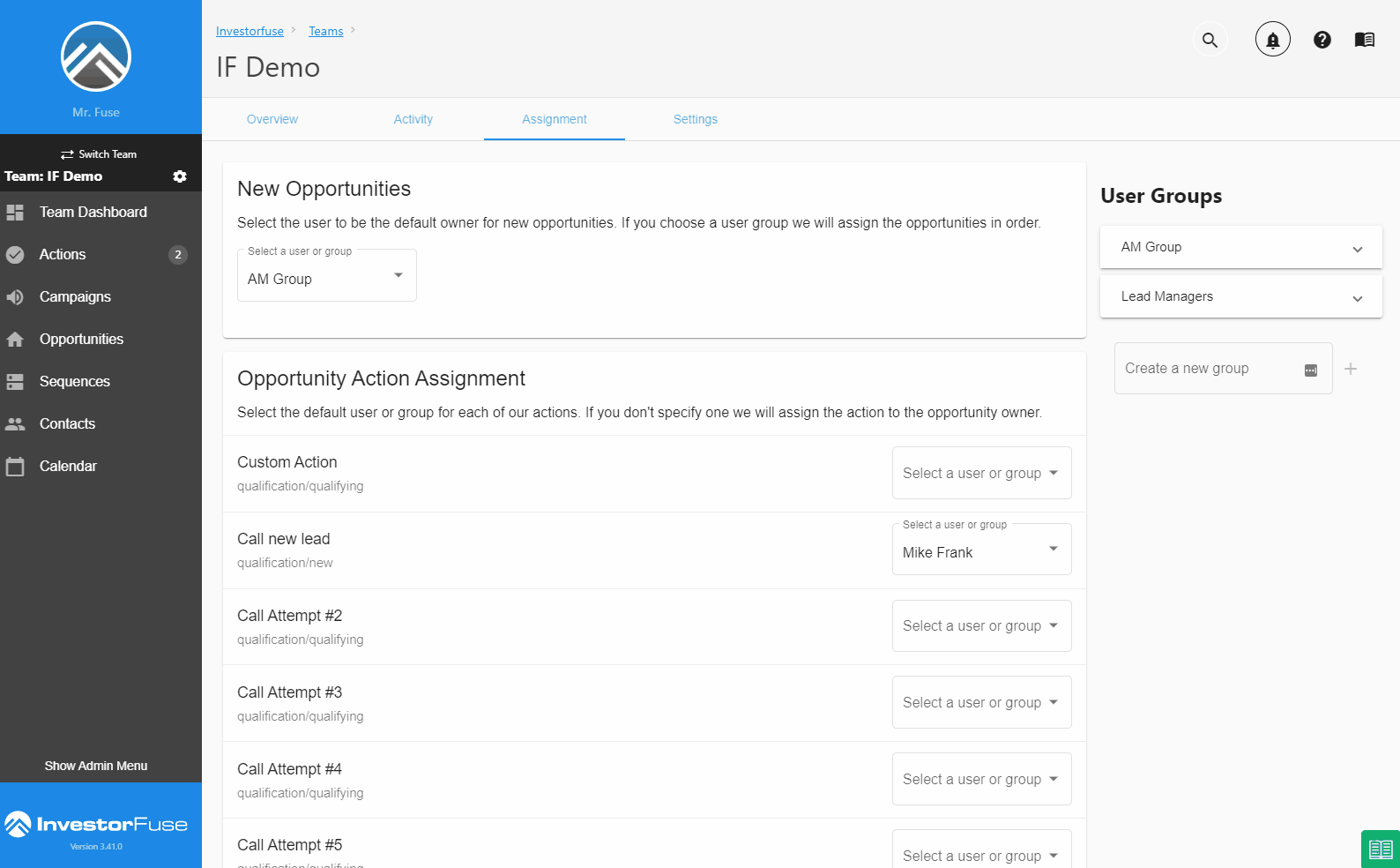 Place in a Follow Up Sequence – We removed the option to create "Place in a Follow Up Sequence" as the initial Action when creating an opportunity manually. The system doesn't like this to avoid IF3 from being used as a prospecting tool. You must now first create a default action before you can start a sequence.
Drop Sequence/Auto-responder Tokens at Cursor – Adding tokens in Sequences and Autoresponders can be annoying because they always get added to the bottom of the message body instead of where your cursor was. That is finally fixed in this update, tokens will now populate at your mouse cursor for your convenience! Check out the updated knowledge base article here for more info.
Custom Action Enhancements – We removed the title "Custom Actions" in one area of the system and replaced it with the actual title of the custom action so it looks prettier. The results when completing Custom Actions are also now being recorded in the activity log!
Sequence Next Action – We added the option "Use Opportunity Owner" in the Next Action tab of Sequences to automatically assign the selected next action to whoever owns the opportunity. This should help you with accurately reassigning the opportunity when the Sequence is completed. Get the updated KB Article at this link.
Bug Fixes
Tasks Invalid Due Date – We received a report with tasks displaying an "invalid due date" message even when the due date is properly selected. That issue is fixed in this release.